We get very little wisdom from success, you know. We all learn from falling down and failure. It's good to fail and pick oneself up again. It is an experience that cannot be bought.
When you realise that life is short, that you hardly have much time in one lifespan to do what you want to do and to achieve it, the sense of urgency of time will create in you a passion to live life with compassion and care.
A fine, luxury timepiece gives you the constant reminder that you should handle life with care, with passion and with respect.
Being in the upper echelon of soiety doesn't equate with either attractiveness or ugliness.
It is ok to pamper yourself but never over-indulge. Life is about experiences. You should experience everything whether it is luxury or basic necessity.
Irritation, can be a great source of energy and creativity. Discontentment drives you to do something about it.
2
babes
in less than 2 months, I thought that it would be a surprise
NOT
to have a birthday surprise and so, didn't expect any fishy business going on behind my back in anticipation of my approaching (or rather, approached) birthday.
But I turned out to be quite wrong! Yeelin managed to convince me that we were going to celebrate my birthday with a picnic at some park when actually, she had already rounded up some friends at Hooked, where they serve mouth-watering dishes that are mostly fish-related. *yums*
As I was the 'VIP' for the day and being the ever lovely friend that she is, Yeelin came specially to pick me up from my house on Sunday evening before picking Huijun too. Up till then, I had no idea where we will be picnicking. That's the thing about trusting your close and dependable friends to do what's needed - you don't tend to question too much for you know they will do a good job.
Banking on the fact that I totally trusted her to arrange the picnic, she led me to Rail Mall on the pretext of buying sushi before we head for Marina South, where I thought we would be having the picnic. I even brought my picnic mat along lor. As we were walking along the shop fronts, I was about to tell Huijun about the fact that Yeelin is such a regular diner at Hooked that she gets a 10% discount when...
Alan jumped out suddenly and I let out a scream!
Well, the scream was instinctive because my initial thought was "
Someone is trying to flee from the scene of a crime!
" HAHAHA.
Imagine my surprise when I learnt that there was actually no picnic at all and the rest of my friends were already seated inside the restaurant, waiting for me to arrive.
A very BIG THANK YOU to all those who came down to Hooked to celebrate my birthday for me! =) And to the rest who showered me with presents and well-wishes via sms or msn, THANK YOU VERY MUCH TOO!
Feeling very much like a blessed little girl. *grins*
Pictures over
here
.
With 2 birthday surprises sprung on the
this
online.
Reading about how this dining outlet was conceptualized and turned into a reality further prompted me to try this new place out at the first chance I could. And so, Yen Nee and I popped by for a visit on Friday night.
After my visit however, you can be pretty sure their name will NOT pass through my lips when someone asks, "Where would you recommend for dinner?"
I have a valid reason for wearing the furrowed brow that I am. I could deal with the fact that they only served our drinks towards the end (not at the start) of our dinner, interrupted our conversation every few minutes with "Can I clear the soups?" (but we were obviously not done yet, giving you the feeling that they can't wait to shoo you off), but it was the final straw when this lady, whom I assumed is a co-owner as she was dressed differently from the staff, asked in a not-very-friendly-tone (I couldn't remember the exact words, but something along the line), "Did you know that this was a platter for four, instead of two?"
All right - so you realized that the wrong order was sent to us. Rather late though, may I add. I'm not sure what she had going through her mind when she said that. Was it meant as a 'hint' that we should top up for the extra food that we ate, or was it meant to be informative? Whatever it is, she repeated the same message that we had actually taken someone else's food, which I reckon was meant for her friends of four at the next table.
Not wanting to play mind games, I asked her matter-of-factly, "What do you expect us to do?" She merely repeated what she said earlier and in a tone that insuinated that we should have known that it wasn't meant for us and we should probably have voiced it out or something.
What if it was a case of realizing the mistake only after we helped ourselves to the food? Besides it wasn't like the order was totally off from what we had ordered originally.
Anyway she left without any conclusion of sorts and left Yen Nee and I quite annoyed diners.
The lady could certainly have been more tactful in her approach, although I understand that we will never be able to conduct business 100% perfectly everyday in every way.
In a country where eating and checking out new places is a known national past time, my interest was naturally piqued when I came across

我忍住的情绪在很后面
拼命想挽回的从前
在我脸上依旧清晰可见

最美的不是下雨天
是曾与你躲过雨的屋檐
回忆的画面
在荡着秋千 梦开始不甜

你说把爱渐渐放下会走更远
又何必去改变 已错过的时间
你用你的指尖 阻止我说再见
想象你在身边 在完全失去之前

你说把爱渐渐 放下会走更远
或许命运的签 只让我们遇见
只让我们相恋 这一季的秋天
飘落后才发现 这幸福的碎片
要我怎么捡
冷咖啡离开了杯垫


在短短的两个月内,原本想去的伦敦, 被改称欧洲, 最后变成了中国。有些朋友好奇地问为何选择中国。对我来说,只要是还没到过的国家,我都想去。所以选择到上海和北京,也没特别的理由。

抵达上海,我和仪琳去了主要景点之一-城隍庙,建于明代永乐年间。还没到上海之前,一位曾到过上海的朋友向我说她在短期之内不会再返。因为那里的人态度欠缺,给她留下了不好的印象。而在上海的几天,我了解她的心情。

在上海人的字典里,似乎没有对不起这三个字。习惯和别人你推我挤的他们,可能真存无恶意的。这或许真是他们的生活方式之一,就像和新加坡人喜欢排队买东西一样。虽然我不喜欢乱推乱挤,但我相信这种情况在那个国家都一样会出现的。

如果能把上海人的行为表现当作风景来欣赏, 当成一种民族文化来体验,那也未尝不是一件坏事。毕竟我们自己也不是那么完美,所以应该含有学习包容别人习惯的度量。

另外一个主要景点就是外滩了。东面靠着黄浦江,西侧是一幢幢风格各异的大厦。生长在城市的我,不论多爱大自然,多欣赏山水,一听到有可购物的地方,更是乐不可支。逛街向来是我其中的一个爱好,而且它也毫无疑问已经是许多新加坡人的休闲活动。不论去到那里,购物很自然而然变成不能缺少的旅游项目。

可是南京西路却没带来任何的收获。真是扫兴。过一会儿,逛闷了,我和仪琳便在一家雪糕点落脚歇息。

隔天,我们到了东方明珠广播电视塔。那是个星期一,可是却人山人海。天啊,看似这城市的人都不必工作!难道上海人真的那么悠哉闲哉,轻松写意吗?高263米,这是鸟瞰上海的最佳场所之一。象这类的观光厅,几乎是每个城市不可获缺的旅游景点。

之后,我们参观上海著名的佛教寺院之一-玉佛寺和全国爱国主义教育示范基地-宋庆龄陵园玉佛寺。在这里,仪琳和我对风水也增添了多一份知识。

看了外滩白天的景色,当然也应该看看它夜晚迷人的风景。于是,我们和两位刚好正在上海工作的朋友相约在新天地汇合,过后到外滩三号。坐在外滩三号天台,瞭望对面浦东灯饰盛装的东方明珠,心里顿时有种说不出的感触。

接下来的两天自由活动,大部分的时间是花在逛七浦路街,买东西,吃东西和洗头发!很享受让这些在美发院打工的美发师帮我洗头和按摩。价格也非常合理,介于RMB20-30之间。简直是太舒服了!

有待继续...
和朋友出国度假,心情是快乐的。因为路上有人作伴,苦与乐都有人一起分享。


The colour's sweet and pretty, the cut and length of the dress also suits me to a T. I likeeeeeeeeeeeee it lots.

Many thanks, Yeelin! *muuuuuuuuacks*
So sweet and thoughtful of her to buy me the dress as a birthday gift which I was so hearting last month but didn't manage to lay my hands on.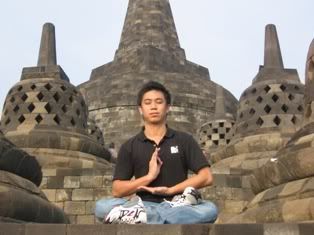 Serious Buddha imitation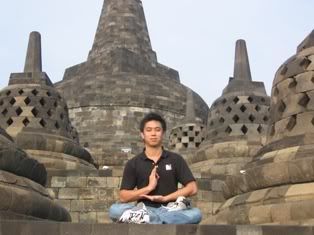 A new laughing Buddha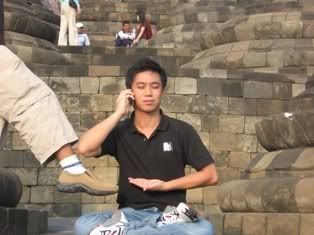 Technologically Advanced Buddha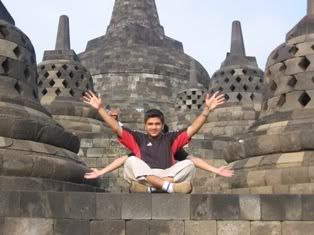 Multi-racial Buddha with a thousand hand
Elaine:
Looks like someone has gained enlightment in the most unusual place! Will Reverend Darylyanto Fookarta please guide and show us THE WAY too...:)
Serene:
And make sure it's the guidance to Heaven, not Hell :)
Look what I've got in my mail. Seems like my 小弟 is enjoying himself tremendously with his boss in Indonesia.
Now that the annual Standard Chartered Marathon Run is here again, I'm slightly apprehensive about signing up for the 21km run which I thought I'd be ready [mentally, not physically] to do! Yes -
registration
is now opened to all and runners from the previous year will have 20% shaved off the promotional prices. Even though I'm trying to increase my mileage progressively, the leap from 10km to 21km just AIN'T the same as the leap from 5km to 10km! 21km is the equivalent of me cabbing home from my workplace and I don't feel the least bit capable of finishing a distance like that now. *purses lips*
Conclusion: Today is a 'molehill-looks-like-mountain-and-so-it's-u
nconquerable' day, so cannot sign up.
Of course in addition to days above, there are also 'fun-and-merry' ones like rock climbing at West Coast Recreation Centre two Sundays ago. It left me with arms so sore that what used to be a mindless task such as changing out of my clothes became not so 'mindless.' Nevertheless I'm pretty sure the whole lot of us enjoyed that session and will be back for more. Yeelin, Samantha and I went all out, topping off that Sunday with another two hours of tennis. Never had I had an entire day devoted to sports, I think. Suckers for punishment huh? Haahaa.
Next up on the list was the
birthday celebration
of Minghua at Union. Minghua and Lewis probably have more dance flair in their big toes than I have in my entire body, so it's not hard to understand why I'd decline to dance. But as Yeelin puts it so aptly, Eugene just seemed sooo enthusiastic about capturing our awkward moments in pictures and so there I was, embarrassing myself right smack in a place where Salsa experts hang out. The only thing I was glad for was that it was near closing time when we did that.
Heng ar.
Then I caught "Harry Potter and The Order of the Phoenix" on Thursday, followed by "Transformers" on Sunday. Both were compelling enough and kept me riveted to my seat throughout the entire screening, without stealing any glances to my watch at all.
Last on the list of fun days for last week was
Jazz by the Beach
on Saturday. Great company, coupled with an obscene amount of food which we polished ALL off [help! the guilt is killing me!] and nice music - in short, life's great! For that Saturday, at least. ;-)
Hope the new week gets better!
P/S: This
new chef on the block
looks cinema-worthy. 好可爱!
I must admit, my mood swings can be rather extreme. Some days, I feel like I'm ready to take on anything that the world has to hurl at me. On other days, every molehill looks like a mountain.
Anyone who isn't happy in life, can't figure out why life isn't giving back the way it should and is looking for that bigger house, perfect soul-mate, or winning lottery ticket, join in and run a marathon. I'm sure you'll find the answer somewhere along the way.
Sounds like MINE.